Economic Overview
The geopolitical risks that dominated for much of 2019 faded in Q4, supporting global share markets. Trade uncertainty faded with the US and China's phase one trade deal announcement, while economic data remained stable. The trade deal, signed on January 15 means planned new tariffs will not be imposed, while US tariffs imposed in September on $120 billion Chinese goods will be reduced by half. The 25% tariffs on $250 billion of Chinese goods will remain. China also agreed to increase purchases of US goods, with agricultural produce highlighted.
The US Federal Reserve cut interest rates once in the quarter before indicating that "the current stance of monetary policy is appropriate". The US economy expanded by 2.1% (annualised) in Q3. A result better than expected and stronger than Q2.
In the Eurozone, the confidence measure among German executives, improved in December, yet the Eurozone purchasing managers' index remained unchanged at 50.6 in December – a level that indicates weak growth. Annual inflation was 1.0% in November, up from 0.7% in October but still well below the European Central Bank's target of close to 2%. Christine Lagarde, in her first major speech as president of the European Central Bank, urged governments to boost public investment in order to increase domestic demand in Europe.
In the UK, the Latest GDP figures confirmed the economy had avoided entering a technical recession in the third quarter after contracting in the previous quarter. GDP growth was 0.4% quarter-on-quarter. Overall, the data suggests that the economy is coping with the uncertainty from Brexit. After the landslide election victory for the incumbent Conservative Party, the government is set to use its large majority to take the UK out of the EU by 31 January 2020, entering a transition period when the next stage of negotiations will begin.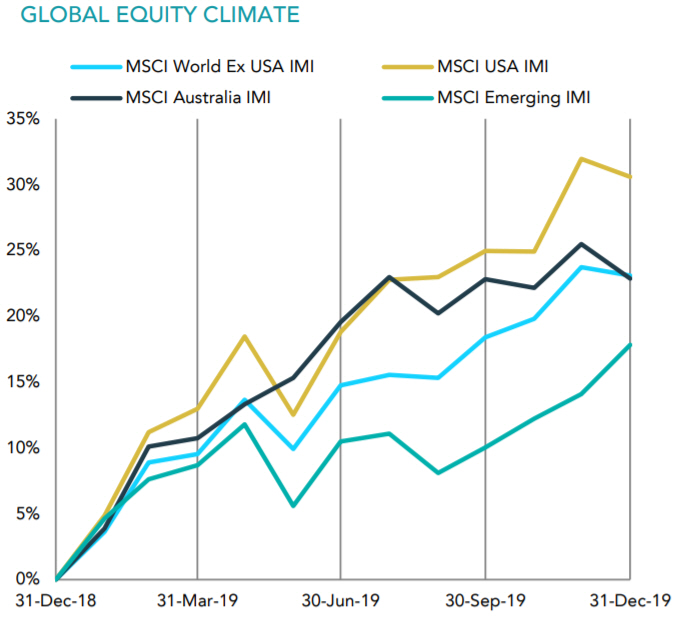 Japan's economic data continued to show a significant divergence between the strength in service sectors and the weakness in manufacturing. There were also signs that the long-running trend towards an ever-tighter labour market had finally reached its natural limit. The main economic event for the quarter was the consumption tax increase on 1 October.
In Australia, the RBA cut the official cash rate to 0.75% in October. Despite predictions of further cuts, none eventuated during the quarter. Eyes now turn to the RBA's first meeting in February. While the RBA noted in its December minutes that, "the Australian economy appears to have reached a gentle turning point" it also finished those minutes by noting, "the Board is prepared to ease monetary policy further if needed to support sustainable growth in the economy, full employment and the achievement of the inflation target over time."
Market Overview
Asset Class Returns
The following outlines the returns across the various asset classes to the 31st December 2019

Overall, it was a mixed quarter to top off an extremely strong year. The majority of the Q4 gains came from global shares. US markets pushed higher as trade uncertainty faded, while Eurozone markets advanced with better economic data emerging from Germany. Bond markets reflected the better mood in the quarter as government bond yields rose (prices fell) and corporate bonds performed well.
Across the year it was hard to miss a good return, both Australian and global shares returned 20%+ returns, while Australian listed property was pushing 20% and fixed interest was given a shot in the arm as yields fell and prices increased. The asset class doing no one any favours? Cash.
In the US, the tech sector was a major beneficiary of easing trade tensions. Energy companies, which had lagged the broader S&P 500 index in 2019, rallied as the oil price rose on lower-than-expected supply.
Eurozone shares notched a strong return in the final quarter of the year, with the region's MSCI EMU index returning 5.1%. Listed companies were supported by better economic data from Germany as well as the phase one trade deal agreed by the US and China. Gains were led by sectors that generally fare well when the economy is strengthening; top performing sectors included information technology, consumer discretionary and materials.
UK equities performed relatively well, and domestically focused areas benefited significantly as they responded favourably to the reduction in near-term political uncertainty.
The Japanese market rose in each month of the quarter to record a total return of 8.6%. Asia ex Japan delivered a strong return in Q4, supported by easing geopolitical risk as the US and China reached a phase one trade deal. US dollar weakness also provided support to returns. Against this backdrop China, South Korea and Taiwan all outperformed. In Taiwan, strong performance from technology sector companies boosted returns, as earnings expectations were revised upwards following solid Q3 sales figures
Emerging market shares posted a strong gain in Q4, benefiting from easing geopolitical concerns. The MSCI Emerging Markets Index increased in value and outperformed the MSCI World.
After a double digit first half of 2019, you might say the ASX coasted home with lower returns in Q3 and a meek 0.75% return for Q4. Notably, it did pass its previous record high in November. Q4 was hampered by a weak December with concerns over Christmas retail figures, the strengthening Australian dollar and improving employment figures, which paradoxically became a negative with the ASX counting on the support of further interest rate cuts. Meanwhile, three of the four big banks, NAB, ANZ and Westpac, struggled through Q4 with either more scandal or cuts to earnings and dividends, proving another drag for the ASX in Q4.
2019 Take outs
As we've noted, it was hard to go wrong in 2019, unless you had a bank account stuffed with cash or a poorly diversified portfolio stuffed with bank shares – or worse, a combination of both! Major asset classes all delivered stellar returns and when combined into a balanced portfolio of 60% growth assets/40% defensive assets the return was 16.74% for 2019, after a 1.01% return in 2018. Remarkably, the 2017 return for such a portfolio was 8.17% and the 2016 return 8.01%.
How reliable is that consistency? The average annual return for this portfolio is 8.27% for the past decade. The worst return came in 2011 with a -1.00% return, with 2019 being the best. Which shows if you're prepared to ride out the sub-par years the realignment can eventuate, along with the rewards.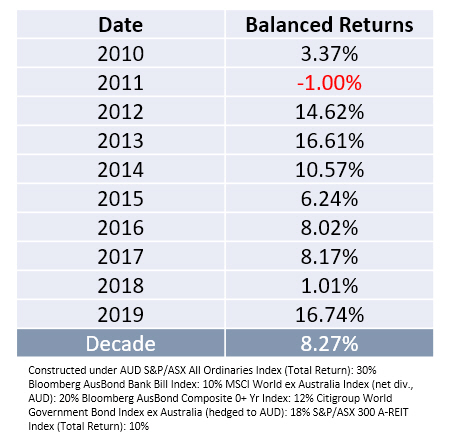 The on again off again trade tensions have proven somewhat farcical. A sniff of negative would take the market down and a whiff of positive would drag it back upwards. When the trade issues move into the background it will be interesting where global markets will take their cues from next. The US presidential race will likely be a focus. Just remember 2016 and the damage Donald Trump was supposedly going to inflict on world markets.
Whatever the focus, it should remain as a matter of interest, not a matter of concern. 2019 was a reminder that we should never react because our expectations may not align with market responses. There was significant concern as 2018 ended. Economic momentum was slowing, earnings growth was in question and optimism was low.
2019 returns were unexpected and more than anyone could hope for.
Does it mean anything for 2020? No. 2020 will have no memory of 2019, just as 2019 had no memory of 2018.
---
With material from Schroders & DFA Australia.
This material is provided for information only. No account has been taken of the objectives, financial situation or needs of any particular person or entity. Accordingly, to the extent that this material may constitute general financial product advice, investors should, before acting on the advice, consider the appropriateness of the advice, having regard to the investor's objectives, financial situation and needs. This is not an offer or recommendation to buy or sell securities or other financial products, nor a solicitation for deposits or other business, whether directly or indirectly.